Are You Exploring To Get A Warehouse For Sale In Silvassa?
Ashish Estate is a well-known industrial real estate advisor that has highly professional expertise in leasing and renting of warehouses, factories, and industrial sheds. Silvassa is a city and municipality in western India, chosen as one of the hundred Indian cities in Narendra Modi's flagship Smart Cities Mission. Many factories and industries providing significant government revenue allow the city to maintain a low level of taxation.
Far from being a tribal region, Silvassa has now developed into an industrial hub with major industrial companies setting up manufacturing bases in the city. Connected to Maharashtra and Gujarat via National Highway 848A, Silvassa has a well-maintained road network. The nearest railway stations are in Vapi, 16 kilometres away, and Bhilad, 14 kilometres away. Also, Daman is only 30 kilometres away via Bhilad on National Highway number 8. With a range of best quality warehouses, Ashish Estate can help you in obtaining a warehouse for lease in Silvassa.
How can Ashish Estate help you get the best godown for rent in Silvassa?
Ashish Estate has a wide range of options for its clients. It has more than 9000 warehouses and industrial sheds in their database. Our unique service of customized construction makes us an expert in build-to-suit warehouses and industrial sheds. With our high quality and safety standards, Ashish Estate provides its warehouses with primary facilities like waste disposal facility, water storage facility, visitor parking, power facility, gas facility, and good road connectivity.
In search of a warehouse for rent in Silvassa? Contact us!
Industrial services provided:
Ashish Estate has a

flexible leasing model

that can help you in getting the best deal for

storage for rent Silvassa.

Our high-quality services are in an

affordable and cost-effective range.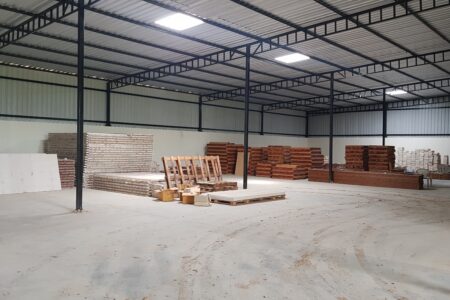 Warehouse, Warehouse in Silvassa, Warehouse in Vapi