How To Get The Best Warehouse For Sale In Sachin?
With thousands of warehouses and industrial spaces in our database, Ashish Estate is one of the leading industrial real estate advisors in India. We offer the best storage for rent in Sachin for all types of industrial properties like industrial sheds, factories, warehouses and storage. Sachin is a town in the Surat city of Gujarat.
Travelling becomes easy as Sachin is on the junction of National Highway 6, National Highway 228, National Highway 8, and other major state highways. It has a railway station which is on the Mumbai-Surat-Ahmedabad-Delhi mainline. Sachin is located 9 kilometres from Surat by railway and 13 kilometres by road. The town has an industrial area managed by Gujarat Industrial Development Corporation (GIDC), Surat Special Economic Zone (SurSEZ), Diamond SEZ, and many other private SEZs.
Why invest in Ashish Estate to get a warehouse for rent in Sachin?
Established in 1999, Ashish Estate is a professional industrial property consultant. We are a leader in the services of the warehouse, industrial shed, factory, and land all over Gujarat. With the help of customization, we can provide high-quality warehouses and industrial sheds to our clients according to their needs. Our clients have put a great deal of trust in us because of our strong reputation in the market. Our goal is to provide the best possible services to our clients for helping in the process of rent, lease, buying, or selling of warehouses and industrial sheds.
In search of a godown for rent in Sachin? We are here for you!
Services provided:
Customized construction

: Ashish Estate believes in offering the perfect

warehouse for lease in Sachin

to the clients according to their needs with the help of customization and built-to-suit warehouses. 

Pocket-friendly:

We provide our 100% satisfaction to our customers with cost-effective services.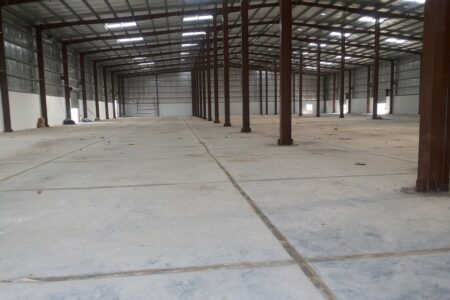 Warehouse, Warehouse in Sachin, Warehouse in Surat