Want A Warehouse For Rent In Bhilad?
Getting an industrial property is a significant investment one has to make when it comes to establishing themselves in the market. For affordable and high-quality services, Ashish Estate is your best bet as we offer a wide range of industrial sheds and warehouses on lease in Bhilad and across Gujarat. We provide all types of industrial property at prime location for industrial shed, factory, warehouse, storage available for rent/lease or sale in Ahmedabad, Sanand, Becharaji, Changodar, Vithalapur, Chhatral, Mehsana, Aslali and many other parts of Gujarat. 
Why choose Bhilad for your industrial ventures? 
Bhilad is a village panchayat in Gujarat, located on the Gujarat-Maharashtra border. It is one of the highest revenue-earning checkpoints of Gujarat. 
Bhilad comes under the Valsad industrial estate with many industries such as chemical, textile, paper and pulp industries flourishing in it. Bhilad railway station offers excellent rail connectivity to Ahmedabad and Mumbai. The road infrastructure in Bhilad is also well-developed, making road transport trouble-free and easy. Getting a warehouse on sale in Bhilad comes with affordability and ease of access to the markets of Vapi, Valsad and Thane. 
Where to find ideal storage for rent in Bhilad? 
When it comes to modern warehouses and industries sheds in Bhilad, Ashish Estate is all you need. Since we established in 1999 in Ahmedabad, we have branched our network to various cities of Gujarat. We offer expert industrial services which guarantee 100% customer satisfaction.  
Why choose Ashish Estate to get your godown for rent in Bhilad? 
India's leading warehouse consultant

 

Reliable and innovative warehouse and factory services

 

Modern industrial infrastructure

 

Fast and on-time delivery

 

High quality and safety Standards

 

Build-to-suit and customized Construction

 

Variable sizes

 

An inventory of 9000+ warehouses and industrial sheds for clients

 

Complete guidance

 

Competitive pricing

 

Flexibility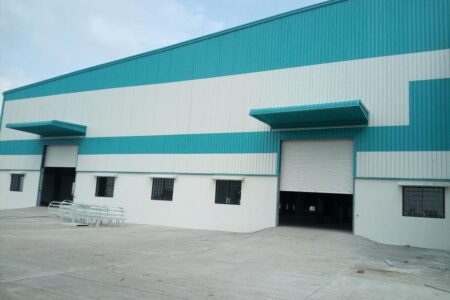 Warehouse, Warehouse in Bhilad, Warehouse in Vapi